"Along with being one of the top comedy impressionists in the country, he is a talented actor and portrait artist." – Denny Dyroff, Entertainment Editor, The Times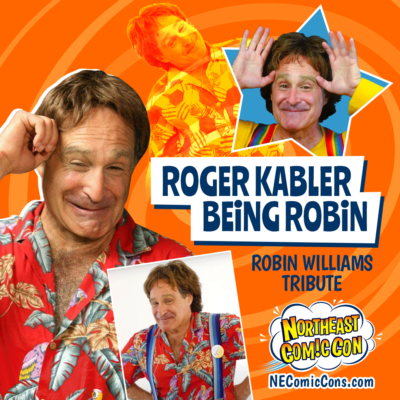 In addition to being one of the country's most talented comedy impressionists, Roger Kabler has experienced a television career that has included serving as Zima's spokesman, appearing on Carol Burnett's last series in 1991, as well as staring in his own NBC sitcom, Rhythm, and Blues. Moreover, Roger wrote, produced, and starred in the award-winning movie Who the Hell Is Bobby Roos? He performed in sold-out showrooms across the country recently. Variety magazine describes him as an astounding impressionist.
Roger will be signing the DVDs for his new movie BEING ROBIN. The DVDs make a great holiday gift, especially for people who love Robin Williams. He will be there doing a live comedy show, offering photo ops, and signing DVDs of the movie 20% of all profits go to Boston Children's Hospital during the holiday season.
QUESTIONS FROM FANS ANSWERED
NECOMICCON: The last show you performed for NorthEast ComicCon had attendees not only asking for an encore but also requesting another encore on the last day of the convention. This was so they could come back and see you again. This must have been a wonderful feeling. As an actor, impressionist, and director, you must be used to being in the spotlight. Can you tell us a bit about yourself?:
ROGER KABLER: I love to perform live. It is a communion with an audience. I have always been into the theatre. The form I'm doing is more like partially scripted performance art, that way I let ideas and characters move through me, in much the same way that Robin Williams did with improvisational and unplanned happenings. It's very alive… You can witness that dynamic in my film Being Robin
NECOMICCON: Will you have Being Robin DVDs available for this show?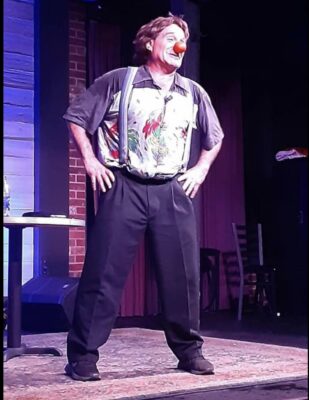 ROGER: I will be signing DVDs at the event, yes – and 20% of all proceeds will go to the Boston Children's Hospital. That is where my heart is, and it's in honor of Robin.
NECOMICCON: What will you perform during the event? Because this is a kid-friendly event, how will you handle some of your act's more "feisty" portions?
ROGER: I will find a way to assert Robin's innocence. It will only be a 35-minute show and there's plenty of the more wholesome stuff I can do.
NECOMICCON: We look forward to seeing you at the NorthEast ComicCon & Collectibles Extravaganza at the Boxboro Regency Hotel and Conference Center on Nov. 25-27, 2022 in Boxborough!
ROGER: I am really looking forward to it as well. It's always a great experience and I feel like I really fit in!
To find out more about the Roger Kabler movie Being Robin, click here!
You can follow Roger on his many social media pages and platforms, including:
Facebook: RogerKabler – Roger Kabler: Comedian, Impressionist – Roger Kabler: Artist Page – Being Robin: The Movie
TikTok: @RogerKabler
Excellent and outstanding show. Kabler (as Robin Williams) … has the high energy, quick wit, voice, and mannerism of Williams. We thoroughly enjoyed the show. Kabler is a very talented comedian, in addition to the Williams show he also is an accomplished impressionist. I highly recommended the show, Kabler nails it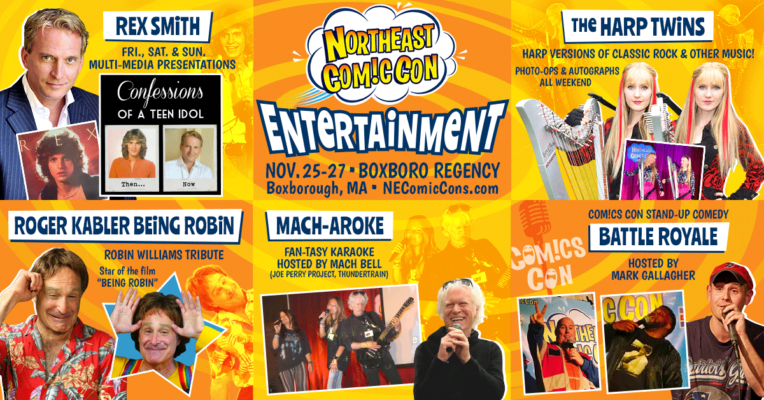 Join the fun!
About this event: November 25-27, 2022 – NorthEast ComicCon & Collectibles Extravaganza
NorthEast ComicCon and Collectible Show will be held in Boxborough, Massachusetts on November 25-27, 2022 at the Boxboro Regency Hotel & Convention Center. The event will be held on November 25-27, 2022. Family-friendly vendors will sell comic books, collectibles, cards, and more. In the 30,000-square-foot venue, you'll find celebrities, vendors, live music, standup comedy, karaoke, and more!
From November 25th to 27th, 2022, the Boxboro Regency Hotel will host a three-day exhibit celebrating the best in comics and collectibles.
The NorthEast Comic Con is proud to continue the tradition of mixing Stand-up Comics with our comics for laughs, fame, glory, and money. Think You're Funny? Take My Money! StandUp Comedians – Enter to Win! 
16 Stand-up comedians go head to head in a vicious no holds barred bracket-style competition.
Try your material in front of an audience to win! In order to ensure hard-core laughter, requirements all event attendees demand, comedian submissions are carefully reviewed by Team Battle Royale. We take our laughs very seriously here and quality is expected and must be met!
To submit for entry into our next competition, Thanksgiving Weekend, November 26th-27th during NorthEast Comic Con & Collectibles Extravaganza, Email a link to a live performance to: hellomarkgallagher@gmail.com $20 registration fee gets the comedian time slots in the Preliminary Round along with Two Saturday Passes to enjoy all the fun of NorthEast ComicCon with someone who might laugh at your jokes.
About the Venue
Stay the whole weekend and take advantage of the weekend hotel deals!
There will be over 30,000 square feet of vendors, exhibitors, celebrities, and things to do throughout the event.
The Boxboro Regency Hotel offers standard guestrooms, suites, and executive suites. In addition to free Wi-Fi, cable television with HBO, and a refrigerator, many rooms feature mini-fridges and balconies overlooking the indoor pool. For breakfast, lunch, and dinner, guests can enjoy modern American cuisine at the hotel's on-site full-service restaurant. High-end suites come with a separate living room and sofa beds. Among the facilities at the hotel are a tropical atrium with a fountain, free WiFi, free parking, disabled access, an indoor pool, a restaurant, a bar, room service, and air conditioning. Hotel guests can take advantage of a fully equipped fitness center, including changing rooms and showers, treadmills, ellipticals, stationary bikes, and free weights, as well as refrigeration, and an airport shuttle. With an on-site business center that offers computer, printer, and fax services, you can stay in control of your business.
A delicious breakfast, lunch, and dinner can be enjoyed at Minuteman Grille American Pub, as well as at several nearby restaurants.
Meet Roger Kabler – One of the top comedy impressionists in the country!