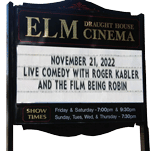 Elm Draught House Cinema Inc
Small, old-fashioned theater featuring current films, plus a a concession stand with beer & wine.
BEING ROBIN SCREENING
Nov. 21st , 7 pm. at the The Elm Street Draught House Cinema. Roger Kabler will be performing his comedy "OVERACTORS ANONYMOUS", as well as screening the film BEING ROBIN. Stay around afterwards shmooze with Roger, and pick up a signed DVD of the film!
Doors open at 6pm. Elm Street Draught House 35 Elm Street, Millbury Ma, 01527. Phone 508 865 2850