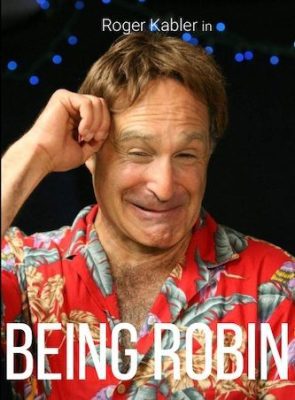 The documentary genre continues to grow into the most prolific and significant in cinema. Being Robin is a non-fiction film that has been recently released and is worth a look.
Comic relief.
After Robin Williams died of suicide in 2014 the spirit of the beloved, manic comic inhabited (for a time) the body of Roger Kabler. Or perhaps, as the psychiatrist who had been treating Kabler for bipolar disorder tells him, he is suffering from the same kind of delusions as patients who claim to be Einstein or Napoleon.
Except those patients are not likely to conjure up a theory of relativity or conquer Europe.
As chronicled in Being Robin, Kabler's film about this transformation, when the spirit moves him his impersonations of Williams are uncanny, unnerving, hilarious, and moving. He's not always funny, but neither was Williams. It's a giddy, unstoppable outpouring of free association, scatology, neediness, mawkishness, and comic genius.
The exigencies of production and perhaps a desire to mirror William's antic imagination contribute to the film's rough-around-the-edges, kaleidoscopic form. Footage of Kabler as Williams in performance is interwoven with reenactments of his attempts to comprehend and come to terms with whatever is happening to him. He is beset with an influx of gleeful nonsense and savvy satire that will not let him rest. Being Robin was a burden for Williams himself, and it is a relief for Kabler — and perhaps the viewer too — when it is finally lifted from him.
Being Robin is available here.
Read the original review by Peter Keough here: https://artsfuse.org/264063/doc-talk-five-new-non-fiction-films-worth-a-look/