Framingham native Roger Kabler will host the 78-minute film about the connection he feels he shares with the late Robin Williams.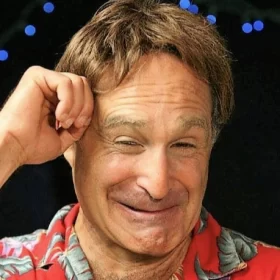 "There are times in the morning when I really feel like he is in possession of me. I burst into Robin sometimes without even knowing it. It's not as much an impression as much as it's something that goes through me." – "Being Robin" creator Roger Kabler
BEVERLY, MA — The look, the voice — the manic, endearing, and often hilarious mannerisms — are all quintessential Robin Williams.
Yet, the story belongs to Roger Kabler.
It all comes together in "Being Robin — A Love Letter to Robin Williams" — an evening of film, performance, and a question-and-answer session that Kabler will bring to Beverly's historic Cabot Theater on Saturday night.
The veteran actor and comic, who was born in Framingham, lived in Marblehead, and now resides in Hopkinton, will host the show based on his own career as an impressionist and sitcom star that was derailed by drugs and mental health struggles more than 20 years ago, only to be revived upon the death of Williams in 2014 when Kabler said he "really felt his presence within me."
"It was almost like a drug because when I became Robin I felt like I was high," said Kabler, who told Patch he's been sober for nearly 20 years since his Hollywood career came to a crashing halt with an on-stage nervous breakdown. "I was suddenly smart, and I was quick, and I was funny again."
Kabler said, upon the advice of some friends, he developed his ability to harness the essence of the late comic and actor into a one-man show that debuted later that year.
"The first time I did it in front of 600 people in a room in California," he said, "Robin just burst out of the genie lamp into me and just went wild."
Kabler worked the "Aladdin" sensation into an act that he said is at times a performance, and at times a feeling when he is almost an involuntary vessel for Williams' spirit. The one-man show became a 78-minute movie that Kabler will host, along with a short set of other his other impressions, and a talk with the audience at the Cabot Theater.
"The film is about the difficulty of being Robin (Williams), and the emotional toll that it's taken on me has a lot to do with this," he said. "This is one man's reaction to him. It's an homage. But it's also how I reacted to him and what I did about it.
"It's like a buddy movie between me and Robin in my mind."
Kabler said he felt that connection to Williams when he first saw him in the TV series "Mork & Mindy" when he was 17 years old. Kabler incorporated Williams into his impressions act when he began performing professionally the next year and eventually found some success with appearances on "The Tonight Show," "The Carol Burnett Show," the movie "Clueless" and as Bobby Soul in the short-lived sitcom "Rhythm & Blues."
But Kabler admits he was not very impressed with the TV show — "I was embarrassed. I felt like I stepped in dog doo and tracked into millions of living rooms." — and its cancellation after six episodes contributed to his spiral out of the television business.
"It was fatigue on top of everything else," he said. "You do something for so long and you kind of get stuck there. I ended up doing impressions everywhere. Even when my career crashed and burned, I was out in the street doing Al Pacino, or in a restaurant doing 'Scarface.'
"It became a problem."
He retreated from the business, became a painter in suburban Massachusetts, got sober, and worked to deal with his bipolar disorder.
Until the spirit of Robin Williams brought him out of retirement.
"I really felt his presence within me after he passed," he said. "There are times in the morning when I really feel like he is in possession of me. I burst into Robin sometimes without even knowing it. It's not as much an impression as much as it's something that goes through me."
That experience became the movie that tells a personal story through a famous person who might be able to tell it better than Kabler could as being only himself.
"The reaction to the film has been very startling," he said. "I had no idea what I was doing when I made the film. But people have told me that they go home and talk about it for hours trying to get to the bottom of it. It's a mystery.
"You can't see what's going to happen as you can in most shows. It's a roller coaster. It's really the spirit of Robin infusing the movie. I talk about myself, and my bipolar, and it does get very emotional. But it's also heartwarming and, in the end, very joyous.
"I want to share it with people who loved Robin. And share it with the people who don't know him who should be exposed to him. He is one of the great spirits of our time."
The trailer for "Being Robin" can be seen here. The film will be presented Saturday at 7:30 p.m. (doors open at 6:30 p.m.). Tickets and information are available here.
(Scott Souza is a Patch field editor covering Beverly, Danvers, Marblehead, Peabody, Salem, and Swampscott. He can be reached at Scott.Souza@Patch.com. Twitter: @Scott_Souza.)